For a small group of hobby logging enthusiasts, the Christmas cheer is alive year-round in a secluded forest near Whispering Pines.
The men, doctors and recovering addicts alike, do not claim any official name or charity status. But every Saturday they return to the otherwise empty property with a fresh load of firewood from one or the other fallen tree around the Sandhills.
It's a curious sideline for Tom Lineberger, who has been practicing internal medicine in the same Aberdeen office for 36 years. But he found his cup – or rather, his driveway – overflowing with a very generous gift from a patient.
"He came to my house with a truck full of large oak logs and threw them into my driveway," Lineberger said. "I had enough firewood for us for probably the next 15 years, so I thought about what else I could do with this wood and started giving it to people for a donation."
Tom Lineberger cuts wood in Whispering Pines.

Photo by Ted Fitzgerald / The Pilot

Lineberger had exactly the cause. Thanks to his older brother, who lives in Charlotte, he was twice on the island of Mfangano on the Kenyan side of Lake Victoria in East Africa. In 2003, Matthew-based Calvary Christian Church helped set up the Gethsemane Garden Christian Center, a boarding school for children who were orphaned during the HIV / AIDS epidemic.
"It's a very remote fishing community – grass huts and pretty extreme poverty, especially with this AIDS epidemic," Lineberger said.
He and some friends started delivering wood to local customers. The only price for a truckload was to ask for a $ 50 donation to the Gethsemane Gardens.
Six years later the system is going well and the centre's founder, Naphtaly Mattah, recently paid a visit. While living on the island of Mfangano and working to translate the New Testament into the language of the Suba who lived there – not an insignificant task since the tribe had no written language at the time – Mattah found shelter for about a dozen orphaned children.
The Gethsemane Garden Christian Center now houses and teaches more than 700 children and has sent 100 to universities.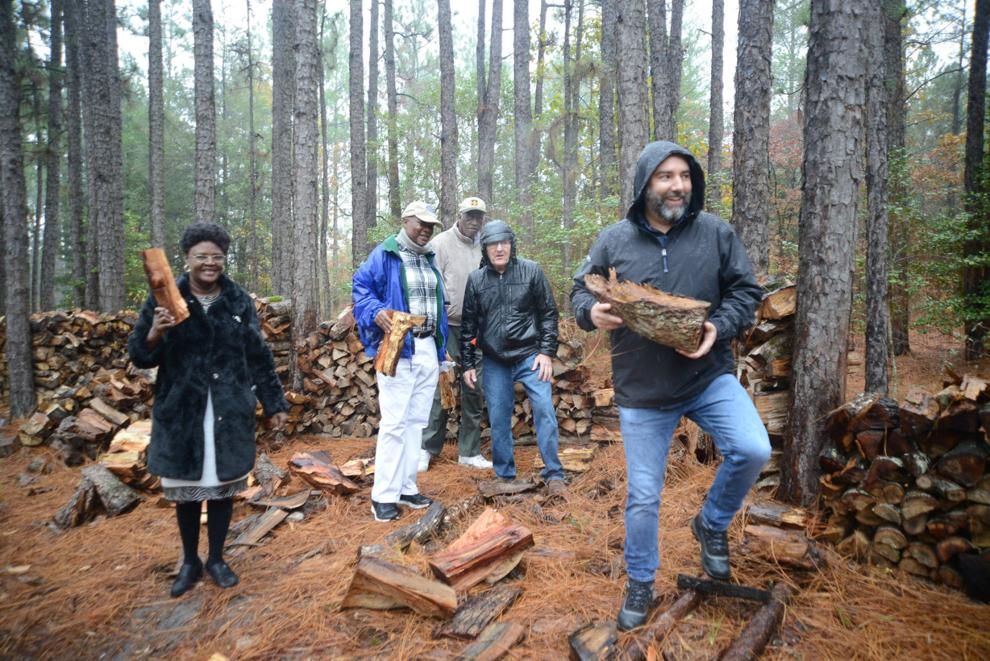 Nerea and Mattah Naphtaly, founders of the Gethsemane Garden Christian Center in Kenya, with Charles Douglas, Bill Lineberger and Greg Lineberger in Whispering Pines.

Photo by Ted Fitzgerald / The Pilot

Back in Moore County, Lineberger does not list the finances to support this mission. He even leaves customer donations to the honor system.
"People call and we get it out and give them information about Gethsemane and give them the envelope. We try to educate them about it, for people who might be sympathetic to a Christian orphanage in Kenya, "he said.
"I don't know how much we collect each year, but it's a lot more fun than golf and you don't get frustrated. It's a crazy hobby for old Pinehurst folks, but we have a lot of fellowship with it and great practice in carrying logs around. "
Both the supply and distribution chain are formed through word of mouth. Trees that have fallen in recent storms keep the group busy almost every weekend of the year. During the autumn and winter delivery season, they occasionally donate firewood on site to people in need of warmth.
"It's kind of like a club and probably no one out there goes to the same church. Some go to church, others don't, "said Lineberger. "It's a motley group, but it's kind of a boy thing. Everyone likes it because they forget themselves and help others even though they don't live here. "
Information about the Gethsemane Garden Christian Center in Kenya can be found at ggcckenya.org. To inquire about firewood, call (910) 690-1912.